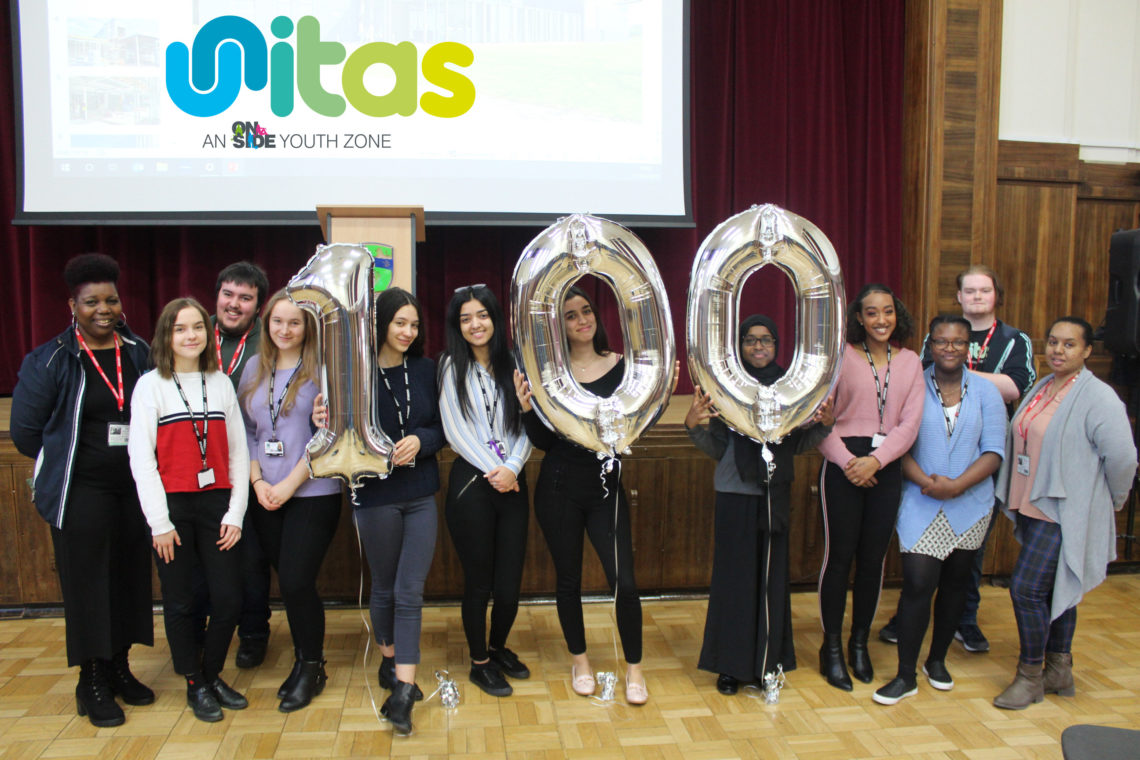 Young people in Barnet are counting down to the opening of Unitas, their state-of-the-art OnSide Youth Zone.
The £6.5million facility, which is being built by national charity OnSide Youth Zones with support from Barnet Council, will open its doors for the first time on Sunday 23rd June with plans being made for celebrations at the facility, which is located in Montrose Playing Fields.
That means there are just 100 days to go and to mark this countdown, the charity has opened its membership, priced at just £5 for per year.
Young people aged 8 to 19, and those up to 25 with additional needs, will have access to a wide range of facilities and activities for just 50p per visit.  The Youth Zone will be home to a four-court sports hall, 3G kick pitch, gym and martial arts studio for sports as well as a music studio with recording suite, dance studio, climbing wall, training kitchen, art room, health and wellbeing room and much more.
Barnet Council has contributed £4.2million to the construction costs as well as providing the site. National charity OnSide Youth Zones, which has opened 10 similar centres across the UK, has raised the remainder through a number of trusts and grants. The £1.4million annual running costs will come from a combination of trusts, grants, private sector and philanthropic contributions.
In preparation for opening, Unitas staff have been out and about across Barnet meeting young people and they marked the 100-day countdown at Copthall School after an assembly with sixth form students.
The team will soon move into its building and prepare to open seven days a week, 52 weeks a year.
Recruitment is very much ongoing with the Youth Zone currently recruiting its staff team with both full and part time roles available. Adedicated group of 100 volunteers will also be vital to Unitas' success.
Unitas Chief Executive Tony Lewis said: "This is such an exciting time as we count down to 23rd June. We are currently building our incredible team and we're all hard at work to ensure that Barnet's young people have the most inspiring place to go when we open our doors."

Councillor David Longstaff, Chairman of Barnet Council's Children, Education and Safeguarding Committee, said: "It is exciting that the opening of Barnet's Youth Zone is fast approaching. The building is heading towards completion and anticipation is starting to build. I'm delighted that by investing in this project, and working together with OnSide, that the new Youth Zone has been made possible. Once open, Unitas is going to be a fantastic resource for young people in the borough and will continue to be so for many years to come."
To sign up as a member for just £5 per year or to find out more about the latest job vacancies or volunteering opportunities, click here where membership registration is quick and easy.