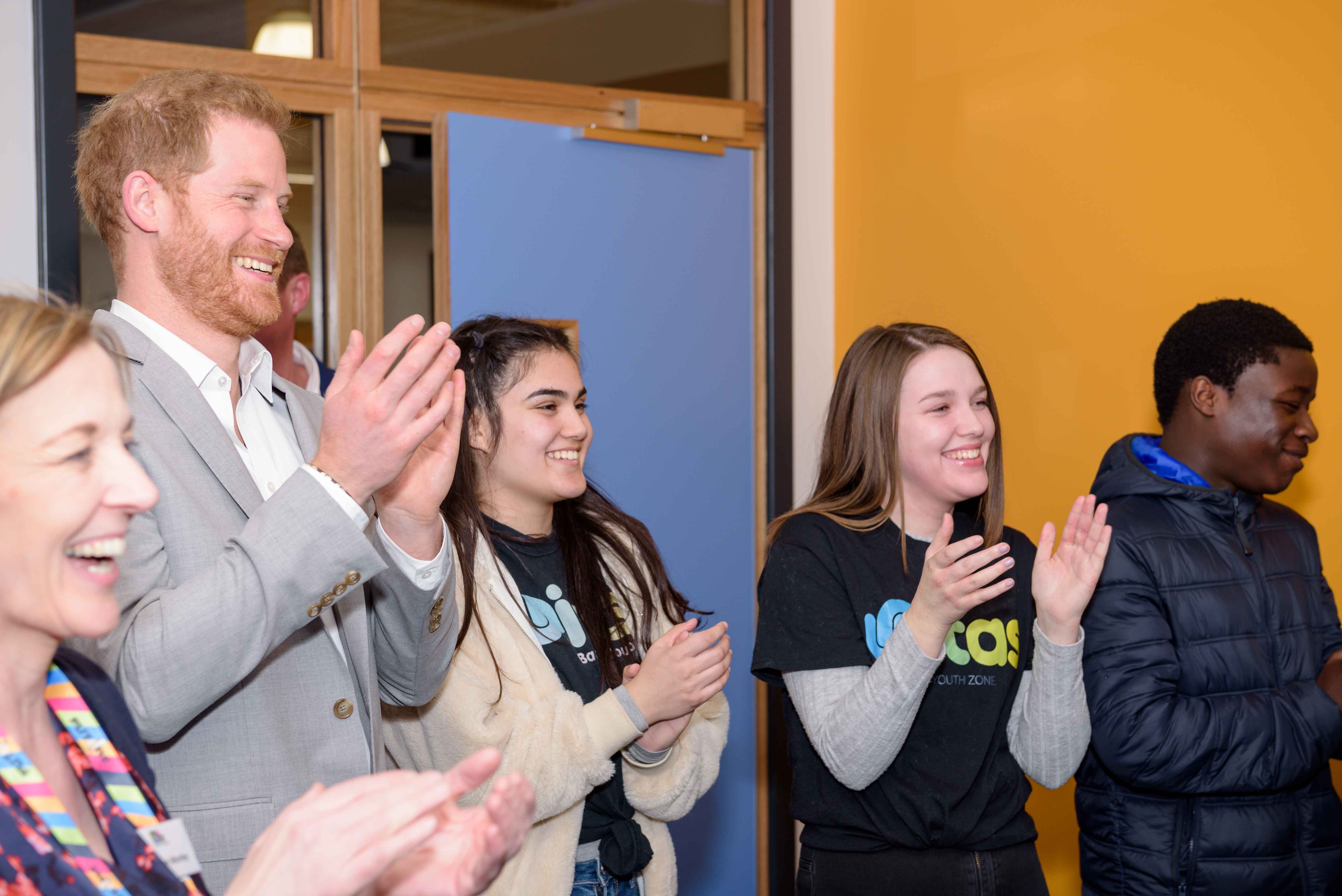 Members of the Unitas Youth Zone young people's development group were given the opportunity to meet HRH the Duke of Sussex.
The young people, who have been part of the group for over three years, were present when the Duke enjoyed a tour of Future Youth Zone in Barking and Dagenham.
Paula Rodrigues, 17, was even given the opportunity to perform her incredible spoken word for him. She was joined by Jordan Murphy-Clarke, Zuzana Fernandes and Hannah McKeating who even tried to persuade the Duke to send his newborn, which is due in the coming weeks, to Unitas!
During the, the Duke with young people from across the OnSide network and took part in a number of activities including tag rugby alongside Sir Clive Woodward.
The Duke of Sussex also watched performances by several young people and met young people from the various OnSide London development groups that have helped to develop all aspects of the London Youth Zones.
The Duke finished his visit by meeting Leader of Barking and Dagenham Council, Cllr Darren Rodwell and key OnSide funders including Christopher Coombe of The Queen's Trust, Sir Jack Petchey of the Jack Petchey Foundation, Simon Morgan of Vistra representing The Seroussi Foundation and Rt Hon The Lord Mayor and Lady Mayoress of the City of London, Peter and Lindy Estlin, before unveiling a plaque which he invited nine-year-old Araberesha Deda to help him with.
HRH The Duke of Sussex has previously visited several OnSide Youth Zone centres including those in Wigan and most recently in Birkenhead in January this year with The Duchess. He also hosted a reception for the charity at Kensington Palace alongside David Walliams.
Each Youth Zone houses an indoor climbing wall, 3G kick pitch, dance and drama studio, music room with recording studio, fully equipped gym, arts and crafts room, enterprise and employability suite, martial arts studio, training kitchen and much more.
OnSide Youth Zones' innovative multi-sector funding model combines funding from local authorities, philanthropists, businesses, charitable grants and revenues generated by the Youth Zones themselves.
John Roberts, Chairman of the Executive Board of OnSide Youth Zones said: "It was a pleasure to welcome HRH Duke of Sussex to Future Youth Zone to see the fantastic facility that's been created.

"We provide state-of-the-art spaces for young people to spend their leisure time which give them somewhere safe and inspiring to make friends and engage with excellent role models.

"We are extremely grateful for the support we've received from local councils, businesses, philanthropists and key members of local communities without which none of this would be possible and we look forward to developing the network across the country."