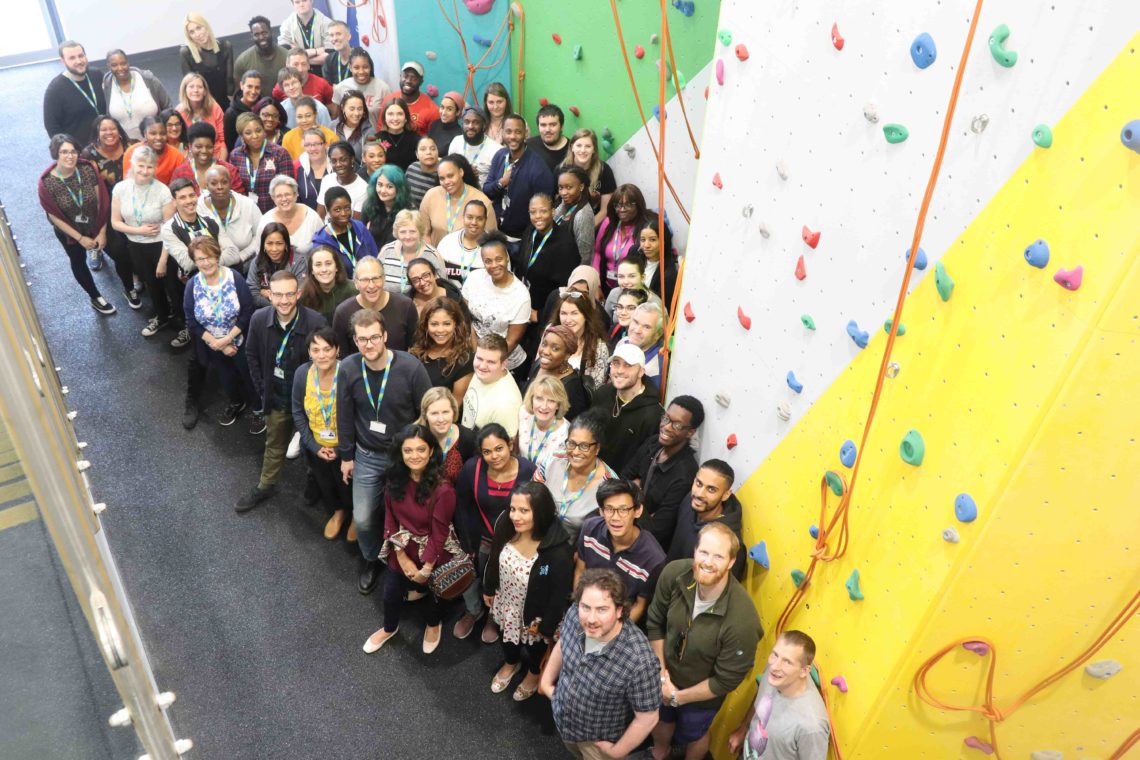 The whole community is invited to the Youth Zone on Montrose Playing Fields in Burnt Oak, for a free event to celebrate the opening of Unitas. The Onside Youth Zone will be open to all ages between 11am and 2pm on Sunday 23rd June and will have something for everyone to enjoy in its 'Greatest Show' themed party. 
 As with all OnSide Youth Zones, Unitas has an incredible range of facilities including a four-court Sports Hall, gym, 3G all-weather pitch, music room with recording suite, training kitchen, dance studio, health and well-being room, arts and crafts area and much more. 
Once the party finishes, the Youth Zone will transform into an after-party for its junior members (aged 8 – 12) from 3pm. The full offer and regular timetable for young people, aged 8-19 and up to 25 with additional needs, will start from the 24th June. 
All this will cost young people just £5 annual membership and then 50p every time they visit. 
Unitas is part of the OnSide Youth Zone network which has 11 other centres across the country. Each have exceptional spaces, facilities and youth work provision, ensuring the best opportunities for young people. 'Unitas' – named by Barnet's young people, and meaning 'Unity' in Latin, will be the second Youth Zone in London, alongside 'Future' in Barking and Dagenham which opened last month. 
Unitas Youth Zone CEO Tony Lewis said: "It's a great feeling to be able to provide this space and opportunity for the young people in Barnet. We have a great team of experienced staff and volunteers on hand to ensure young people have somewhere to go, something to do and someone to talk to. We're so excited to get started!   

"We're grateful to Barnet Council for their incredible support in bringing this state-of-the-art Youth Zone to the area and we're looking forward to welcoming everyone to Unitas on the 23rd June." 
As well as providing the land for the building, Barnet council has also contributed £4.2million towards the construction costs. The annual £1.4million running costs will be funded by a range of trusts, grants, private sector and philanthropic contributions. 
Councillor David Longstaff, Chairman of the Children, Education and Safeguarding Committee, "The anticipation and excitement is growing as opening day for Unitas approaches. It's the culmination of an enormous amount of hard work over a number of years, and the result is an excellent resource for our young people to have on their doorstep.

"Unitas is only the second Youth Zone to open in London and to have this array of top class facilities and activities under one roof is outstanding. Our young people are very important to us which is why I am so proud that Barnet Council has been able to support and invest in this ambitious project."

Unitas Youth Zone is expecting the opening to be a busy event and is asking guests to be mindful and respectful to our neighbours when arriving and leaving.
The Youth Zone will be open seven days a week with different sessions for juniors (8-12) and seniors (13-19 and up to 25 for those with additional needs).  
To sign up as a member and to see the timetable, which will launch following the opening party, visit www.unitasyouthzone.org 
Unitas Youth Zone • 76 Montrose Avenue Edgware • HA8 0DT