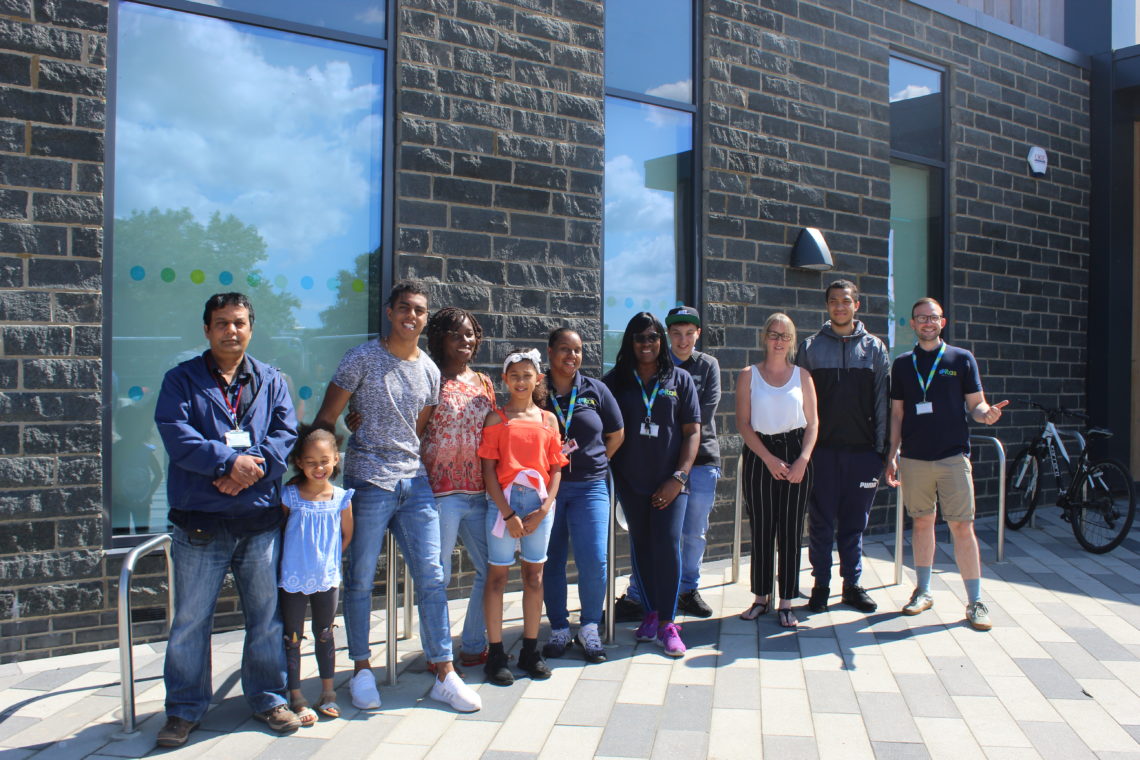 Four young people have become the first members to graduate from our Ambitions Programme.  
The Ambitions Programme has been a huge success at Unitas, with our first cohort of young people celebrating their graduation ceremony on Monday 29th July 2019.  
Our four members Lewis, Christian, Alissa and Jay were joined by family and friends and Unitas' staff to reflect on their achievements over the past few weeks and award them with their certificates.  
The Ambitions Programme is built on the same model as OnSide 'Get a Job' scheme and implements one of the network's values 'Ambitious'. It is a six–week course aimed at Unitas' members aged 16 and over to develop a range of skills that will help them gain employability skills, boost their confidence and provide workshop and traineeship opportunities that will support them on their journeys towards independence. 
The Ambitions Programme, which was run by our Employability and Enterprise Coordinators, Jasmine and Michelle, ran two sessions every week based at our Youth Zone and as various trips outside. Each session focused on different topics that would encourage our young people to develop a range of transferable skills that would enhance their potential within themselves and make them more employable to recruiters. 
The young people engaged in a boxing workshop in their very first week, encouraging them to enter outside their comfort zones and learning how to build resilience when faced with challenging situations. The group expressed their creative sides by taking part in a media session and explored interview techniques by taking the 'hot seat' and articulating their thoughts on camera.  
The course's first speed networking event was another highlight, where our young people spoke directly with local organisations , further education and training providers about career opportunities that will help them gain insight in to different industries.  
The cohort was also joined by external speakers such as Louise from Tottenham Hotspurs who delivered two engaging workshops on how to get the young people 'to sell their best selves' on paper when completing CVs and application forms. Lewis found this experience to be very useful, and a positive step upwards as this has been the first course with which he has engaged with from start to finish.  
He said: "I enjoyed having Tottenham Hotspurs come in to deliver a workshop about CVs and how to make it presentable so other people will read it. I also enjoyed filling in the application forms and learning about what parts to fill in." 
As well as this, there was also time for the young people to have fun and socialise throughout the course, with a trip to the cinema to see 'The Lion King' as well as a funny team bonding session when the group went ice skating at Alexandra Palace Ice Rink.  
The young people were able on look back on their favourite moments and see the progress they have made by watching a video montage shown at graduation. It was clear to see the extent in which the young people have grown in confidence and self-esteem and to see them flourish week by week.   
Christian has spoken of how the Ambitions Programme has impacted him positively, saying: "I learnt a lot of things during the Ambitions Programme. I enjoyed going ice skating, writing a CV and learning how to motivate someone. I now want to go to University and become a personal trainer."
Unitas' Employability and Enterprise Coordinators, Jasmine and Michelle, are delighted of the outcome of the Ambitions Programme and have high hopes for its continuing success. 
They said: "We are incredibly proud of all our young people and of the legacy they have achieved from being our first cohort to graduate from this course. We wish them all the best for the future and hope they continue to raise their aspirations.  We look forward to welcoming them to our Youth Zone again in the very near future so they can inspire other members of the programme with their experiences. Congratulations Ambitions Programme graduates."