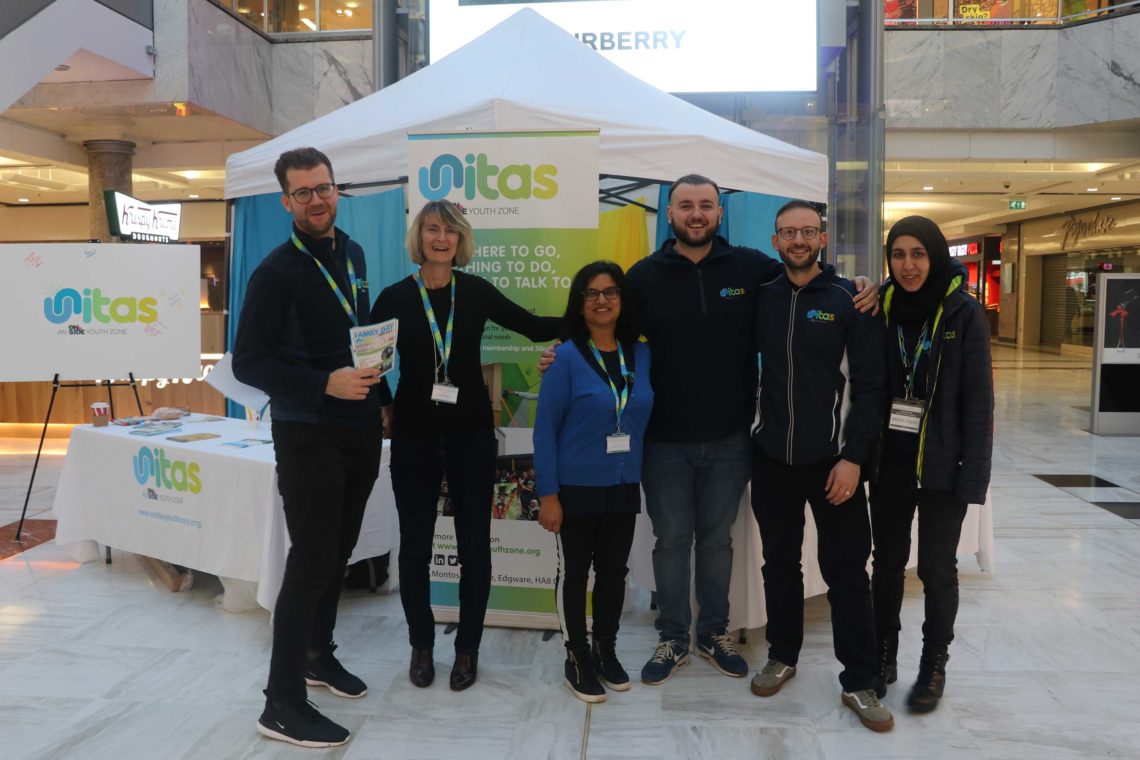 Unitas launches its official partnership with Brent Cross with a spectacular onsite event at Centre Court.
On Friday 18th October 2019 the Unitas team launched their official partnership with Brent Cross, holding a launch event at Centre Court to talk to shoppers directly about the Youth Zone.
Brent Cross is North West London's premier shopping centre, home to over 120 shops and restaurants and sees on average 15 million visits per year.
They are also one of our main supporters with Starbucks UK based at the shopping centre, alongside neighbourly.com donating £1,000 to support our young people as part of their 'Starbucks Summer of Giving' programme.
The team were delighted to be able to showcase Youth Zone at such a popular venue and bringing with them the Unitas' branded colours as décor for the gazebo and a few exciting taster activities to treat those passing by.
As well as the team being on hand to raise awareness of the Youth Zone and its general membership offer, shoppers were also invited to our free family day event taking place at the Youth Zone on Sunday 20 October 2019 from 12.00-3.00pm. The occasion proved to be a huge success with over 500 people turning up to explore our amazing facilities, relax and have fun with family and friends.
Parents were also informed of our 'Spookitas' October Half Term Holiday Club for our Junior members ages 8 –12 between 20 – 25 October 2019. For our members the week was an especially memorable one as they not only enjoyed having time off school but also celebrating the lead up to Halloween as well as the highlight of greeting the OnSide Tour de Youth Zones team.
For our younger onlookers we were able to offer them exclusive vouchers to come along for free trial as well as a chance to win a whole's year worth of free membership if they scored three goals in a bean bag challenge.
Our Unitas Artboard was also a huge hit with young people who scribbled their own motifs and signatures to be displayed back at the Youth Zone. Facepainting was also an immensely popular activity for families at the precinct with many young people enthusiastic about getting their faces decorated by our talented sessional worker Annii.
To spotlight the occasion, we were active on all our social media platforms encouraging shoppers to come and have a chat with us – our post including members of our team at the upper balustrade displaying our banner is one of our most liked posts on Instagram.
The outcome of the event proved to be thoroughly positive and a great experience for our team to talk to potential members and families within Barnet about all the Youth Zone has to offer for the community.
We hope to see many more young people registering as members at Unitas as a result as well as helping them to realise their potential within our inclusive and dynamic environment.
Our Chief Executive Tony Lewis said: 'We are extremely appreciative of Brent Cross for all their support and for granting us the opportunity to hold our official launch event at Centre Court. It is a premier shopping destination in London so to be able to raise awareness about the Youth Zone across a diverse audience from communities within Barnet was wonderful. We look forward to continuing our collaboration with Brent Cross in the future and working with them towards supporting our local young people.'