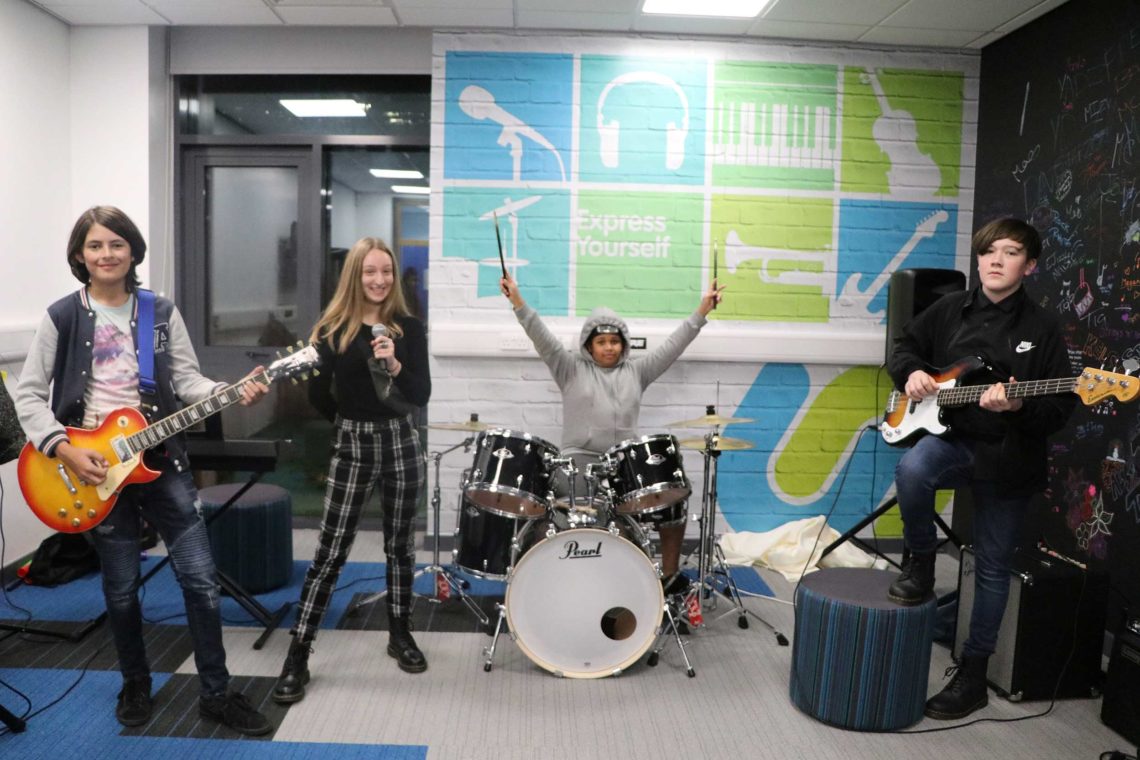 On Sunday 17 November 2019 Unitas members and staff, alongside family and friends, will be joining the celebrations at the OnSide awards at the Royal Albert Hall.  
With just a few days to go till thousands of young people across the whole OnSide network will congregate at the renowned venue, the Royal Albert Hall, excitement levels at the Youth Zone are reaching fever pitch as we prepare for the first ever OnSide Awards. 
From Unitas we're delighted to announce that our very own members Latoya has been shortlisted for the Giving Back Award and the Unitas Band are up for the Music Award gong. 
The OnSide awards will be an unforgettable event shared across the network to recognise the achievements of our young people and to offer them a once –in-a –lifetime opportunity to showcase their talents at such an exclusive location. 
Joining us for this spectacular occasion will be a starry line up of celebrity acts and artists. Hosting the ceremony will be presenters Dev Griffin (BBC Radio 1) and Vick Hope (Capital FM). 
Performing at the awards will be successful acts John Newman, The Script, Yizzy and Ms Banks.  
A member of the Royal family, the Duke of Sussex himself, Prince Harry, will also be making an entrance at the event to announce a lucky winner and to greet all the award winners backstage. 
Preparations for the OnSide awards have been happening a few months prior where Youth Zones across the country put forward nominations for their young people for different award categories. 
Auditions for the OnSide Talent Competitions were also held in the search for captivating acts to perform live on stage at the Royal Albert Hall and thrill the audience with their incredible talents. 
Performing at the glitzy ceremony with fellow singers from Future Youth Zone and Blackburn Youth Zone is our very own Christianah where all three will be singing their own rendition of Billie Eilish's 'I don't wanna be you anymore.' 
We are of course hugely proud of all our members that have made the shortlist for the OnSide awards, and for Christianah for being selected to perform, and we can't wait to for their amazing stories to be shared with all those attending at the event.  
Latoya, 18, is part of our United Youths Seniors, a group for young people acting as ambassadors for Unitas as well as putting forth ideas and contributions to improve the membership offer at the Youth Zone. 
Being shortlisted for an award is a new experience for Latoya as she expresses her pleasant surprise at being recognised for such a wonderful accolade. 
She said: ''When I found out I was nominated for an award I didn't know how to react because I don't normally get nominated for things like this so it was different…I was shocked.' 
Being described by friends as caring and someone who in most cases, puts the needs of others before herself, Latoya realises how being put forward for an award is a signifier to the positive changes that have occurred in her life. 
She said: ''Being nominated for an award it makes you feel proud because it makes people notice the small things you do. It's also made me realise that you can change because people tended to bring up the bad stuff that I would do and not be noticed for the good things so it shows how much progress I've made and for that I'm a bit proud of myself.' 
Latoya is hoping to share the momentous occasion of attending the Royal Albert Hall with her 'Unitas family', an opportunity she describes as being an honour to be shortlisted for and looks forward to having fun with those closest to her. Well done Latoya!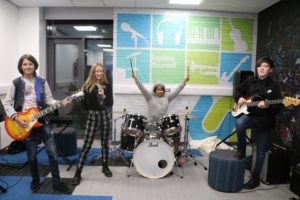 Next to be shortlisted for an OnSide Award, is our very own namesake, The Unitas Band, which is made up of members, Latoya, 15 (singer), Conor, 15 (guitarist), Milan, 14 (drummer) and Jack 14, (lead guitarist). 
The story of how the Unitas Band was formed is a particularly extraordinary one considering the members did now know each other before meeting up for the first time at Unitas. 
Milan said: 'We [individually] all thought going to Unitas is a great idea so we all met up at the Youth Zone – I started playing out on drums and he [Conor] started playing a rift on the guitar and Layla started singing and Jack joined us a few weeks later and kind of meshed the whole thing together.' 
The chemistry between the band members was a significant aspect to their appeal and a factor of their success at reaching the finals of the OnSide Awards Talent Competition. It is also a testament to their growing friendship and how supportive and comfortable they ae of each other's music abilities and performance skills. 
On performing at the auditions held at Future Youth Zone, Conor said: 'Normally when we perform on our own it's quite scary but because we were performing together it was just easier because we're so used to jamming in the music room – it was just like any other day really.' 
However, despite not being selected to perform at the Royal Albert Hall, The Unitas Band are glad on be recognised for their musical capabilities after being shortlisted for the Music Award. 
Layla said: 'I felt so relieved, no, I was really happy but even though I was playing it cool when I heard we'd been shortlisted but inside I was screaming 'THAT'S SO COOL'. It's amazing because we work so hard and I think we deserve as it was nice to finally get that recognition.' 
As well as the excitement of watching our guest performers at the venue, the Unitas Band are also looking forward to walking through the doors of the famous Royal Albert Hall for the first time. 
Jack said: 'I'm just looking forward to being at the Royal Albert Hall, I mean it's such an extravagant event. It's amazing to be shortlisted for an award and to able to be at the award ceremony at such an iconic place'. 
The Unitas Band are already looking ahead to the future in raising the bar in terms of their exposure as a musical act, having aspirations to perform at the upcoming showcase event at the Youth Zone and to eventually gig outside of Unitas.  
Milan who started to learn drumming seriously when coming the Youth Zone has made impressive progress in just a few months and is now teaching other fellow members like bandmate Conor. 
Who knows where the future will take the Unitas band but they will definitely always be fondly remembered as the Youth Zone's first official band. 
 Congratulations guys!!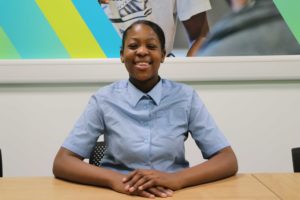 Our chosen performer for the celebratory evening is Christianah, 14, who will be preforming in front of thousand the same song she chose to audition with for the OnSide Awards Talent Competition. 
Christianah, who comes from a musical family, cites her elder sister as her main source of inspiration when choosing to pursue singing. 
She said: 'I used to look up to my sister who would sing and perform in places and to be honest she would tell me I couldn't sing but eventually I got better and better and could show that I could sing.' 
Even though Christianah decided to audition for the OnSide Awards Talent Competition independently, she says the support she received from her friends helped to inspire her song choice. 
She said: 'The reason I chose to audition was because I saw the advert and I thought 'this looks interesting' and I was fairly new to Unitas having come just a month or two. I saw someone singing it [Billie Eilish's 'I don't wanna be you anymore'] and I heard my friend talking about it previously. I didn't know much about the song and I thought let me try singing it, free singing it in the music room. I thought it was a really good song to sing and learnt to sing the song in the lower key as it suits my voice better.' 
 Christianah did an amazing job wowing the judges at the finals for the competition that she was the only one selected from Unitas to perform at the Royal Albert Hall.  
However, as well as being overjoyed at the news, Christianah also admits being nervous about being the only successful act to have surpassed the finals from Unitas. 
She said: 'I thought people would look at me differently because I was the only one from Unitas to be selected to perform at the award ceremony, but everyone was really supportive and happy for me.' 
Behind the scenes, Christianah has been attending rehearsals with her fellow singers to get the song pitch perfect for the big night. For Christianah, this will be a massive confidence boost being able to perform in such a massive arena filled with thousands of teeming faces. 
She said: 'What I'm most looking forward to at the OnSide awards on Sunday is being able to look at the audience and sing with confidence and not feel shy or feel like my voice is cracking and be able to show everyone that I have talent and so do the people I'm singing with.' 
Good luck with the performance Christianah – we know you will do exceptionally well. 
We wish all the shortlisted nominees and the performers across the OnSide network the best of luck for the OnSide Awards on Sunday.  
We can't wait to join you all on what will be a phenomenal night of fun, laughter and enjoyment. 
Let the celebrations commence!