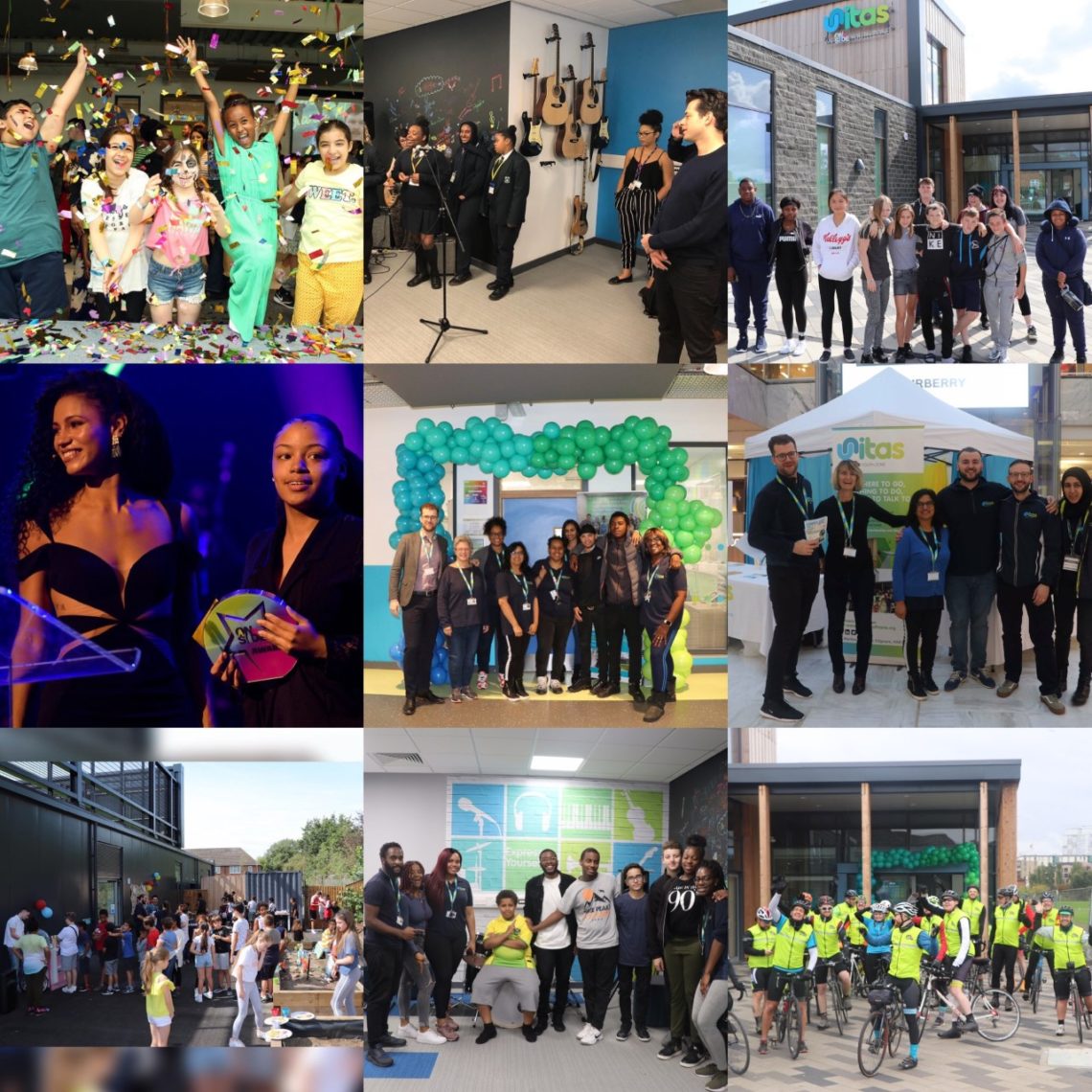 On Monday 23 December 2019 Unitas, Barnet Youth Zone, celebrated its 6 months anniversary since it first opened to the young people of Barnet.  
Unitas is OnSide's eleventh Youth Zone to open from the network and only the second to open in London after Future Youth Zone in Barking and Dagenham. 
The Youth Zone officially opened its doors on Sunday 23 June 2019 with a spectacular grand opening ceremony which welcomed over 1,400 guests and kickstarted its 7 day a week youth provision for young people ages 8 –19 or up to 25 for those with special needs and disabilities. 
Since then Unitas has had over 5,800 young people register as members from over 185 areas in London and beyond, has delivered over 200 sessions and has had over 30,000 visits to the Youth Zone in that time.  
It has been a remarkable journey for all those involved in Unitas' story so far, including its diverse team of 70 staff and volunteers working together to deliver an exceptional membership offer to its young people with up to 20 engaging and challenging activities available every session for just 50p a visit. 
There have been many formative changes to Unitas in its 6 months with many first achievements and successes along the way. 
An immediate highlight after opening was when the acclaimed producer and musician, Mark Ronson, delivered an unforgettable session with pupils from St Mary's and St Johns CE School and Copthall School as well as performing his hit single 'Uptown Funk' with the United Youths Seniors. 
In June also saw the launch of the Ambitions Programme – a free 6-week employability skills programme for members ages 16+ looking for support in finding their next steps in employability, further education and training. In just a few months, the Ambitions Programme has seen 2 cohorts successfully graduate from the programme and will be looking to start with a new group in January 2020.  
During the summer, the Youth Zone ran its first Summer Holiday Club offering over 100 hours of safe and fun sessions to our Junior members during the day. In August, a group of young people took part in the Snow Camp Programme to learn how to ski or snowboard at the Snow Centre in Hemel Hempstead. A group of Senior members also took part in an adventure filled weeklong residential trip to Trewern Outdoor Education Centre in Wales.  
October proved to be a particularly jam-packed period at Unitas with a string of events being held in and outside the Youth Zone.  
Unitas officially launched its partnership with Brent Cross with a colourful onsite event at Centre Court inviting shoppers to find out more about the Youth Zone. The proceeding family day event proved to be a wonderful occasion for the community which saw over 500 residents come down to explore the Youth Zone's state of the art facilities. The Red Velvet Company set up by our Junior members with the support of Enterprise Co-ordinator Michelle sold their delicious treats for the first time. 
Soon afterwards the Youth Zone held its first Impact Evening where existing and potential patrons and funders were invited to find out how they can collaborate with Unitas in supporting young people across the borough. Another joyous moment was welcoming the cyclists who dropped by at the Youth Zone on their penultimate stretch of the Tour de Youth Zones which also coincided with the Halloween themed 'Spookitas' October Half Term Holiday Club.  
The OnSide Awards on Sunday 17 November 2019 held at the Royal Albert Hall was an incredible night of celebration for young people across the network with members Latoya winning the Giving Back Award and Christianah performing live on stage. 
In early December the Youth Zone hosted its first Christmas Fair where various local businesses ran stalls to sell items to local families in the lead up to the festive period. 
Now in anticipation for the year 2020, Unitas looks forward to embracing new opportunities that will further inspire and unite young people and families within the community – and further more embark on positive relationships with partners that will support the development of the Youth Zone in the future.  
Unitas' Chief Executive Tony Lewis said: 'Now that we've surpassed our 6 months anniversary and looking ahead to the year 2020, it is amazing to reflect on the incredible achievements that Unitas has amassed since opening its doors to thousands of young people. We have created, in just 6 months, a fun and safe haven 7 days a week for children of all ages and backgrounds, some extremely vulnerable, all in order of supporting our vision of uniting them and supporting them to achieve their potential. We look forward to further developing as an open access youth provision and making a positive impact in the local community with new and exciting opportunities coming forth at the Youth Zone in the New Year.'