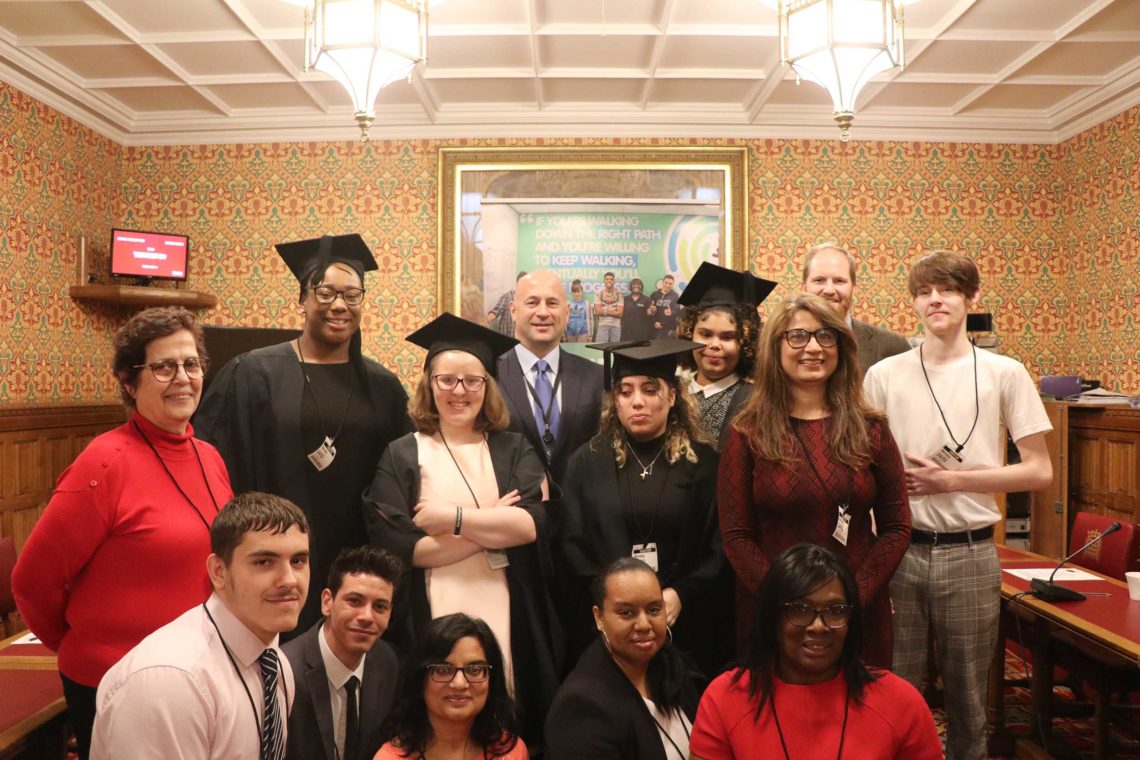 The third cohort of the Ambitions Programme celebrated their graduation ceremony on Monday 24 February 2020 at the prestigious location of the House of Lords. 
The seven successful graduates alongside friends, family and Unitas staff, attended a special ceremony hosted by Lord John Mendelsohn who is also a board member of Unitas and a great advocate for the Ambitions Programme. 
The Ambitions Programme is a six-week pre-employability skills programme to support our members aged 16+ in identifying their next steps whether that is work, training, further education, volunteering or apprenticeships. The third cohort of the Ambitions Programme spanned from Monday 6 January 2020 rot Monday 24 February 2020.
The programme is run by Employability and Enterprise Co-ordinators, Jasmine Porteous and Michelle Allen and is supported by volunteer Versha. The programme runs weekly on a Monday and Thursday at Unitas. 
The graduates were also given a tour around parliament and treated to a tasty brunch before the official graduation ceremony started. 
They were then awarded their certificates by Lord Mendelsohn and were praised for their achievements throughout the last 6 weeks as well as being photographed donning their smart graduation robes. 
The third cohort has been a busy period for our young people with lots of opportunity to develop a range of holistic skills that aren't necessary taught in schools. 
The group attended an accredited Money Management workshop with MyBnk at the Youth Zone, which informed the young people on what it means to manage your own budget and how to pay tax and spend money efficiently.  
Speaking on the usefulness of the workshop, graduate Sharon said: 'I thought the workshop was really good as we don't do this type of course at school; it's not part of the curriculum so it was helpful to learn what it means to pay interest or how to do your taxes.' 
Another highlight was the group being given a tour around the immaculate Hilton Hotel in Wembley to gain an insight into the running of a renowned hospitality business.  
The group also took part in an Emergency First Aid course delivered by the team from Street Doctors where the young people got hand on experience on what it means to deliver potentially lifesaving treatment to someone in need of first aid.  
Preceding graduation was the Ambitions Programme Speed Networking event held on Thursday 20 February 2020 at the Youth Zone. The event was attended by CEO of Barnet Council, John Hooton, who spoke to young people on the various opportunities the council can offer them beyond the Ambitions Programme. 
At the graduation ceremony it was clear how much the young people had progressed from their time working with the Ambitions team. The graduates all gave a speech in which they described how being on the programme has instilled them with confidence and self-belief to pursue their goals. 
One of the graduates Rachel said during her speech: 'I feel so proud of myself for sticking at this programme to show myself, not anybody else, but me that I can do something. I wouldn't have been able to do this programme without my mum who has pushed me in the best direction by encouraging me that I should try something and try and try again like she does with herself. I also want to say a huge thank you to Jasmine and Michelle for all they have done for me during the programme.' 
Both Jasmine and Michelle are delighted with how much the young people have taken to being part of the programme and hope to keep building on their success as they progress to the next cohort. 
Jasmine and Michelle said: 'We want to say a huge congratulations to our young people – it has been a pleasure working with them all and we look forward to seeing them continue to flourish as the vibrant and aspirational young people they are. We would also like to thank all the support we have been given by members of our community who have helped us to deliver the third cohort of the Ambitions Programme. We're excited to kick off our fourth cohort of the Ambitions Programme where we will be welcoming another group of dynamic young people. We can't wait!'