Young People
Pursue your ambitions at Unitas!
What is the Ambitions programme?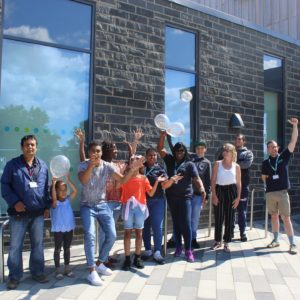 Our Ambitions programme is an eight-week employability skills programme for our members who are not in education, employment, or training (NEET). Members must be aged 16-18, or up to 25 years old with SEND and we will support them in identifying and achieving their next steps whether that is work, training, further education, or an apprenticeship.
When does the Ambitions programme take place?
The Ambitions Programme takes place three times a year in February, May, and October (subject to minor variations).
What  does the Ambitions programme involve?
By enrolling for the Ambitions programme, you will have the opportunity to get involved in a range of employment related activities including:
Goal setting.
Identifying your personal skills and skills that are needed for employment.
Education and career planning.
CV and cover letter writing.
Job searching techniques.
Interview skills and techniques.
Mock interviews.
Teamwork and confidence building skills.
Young People will also learn about Customer Service and develop their knowledge and confidence by undertaking a level one qualification. There will be various activities, workshops and trips during the programme which will help young people to build resilience by completing challenges outside their comfort zones and this is an opportunity to meet lots of new people.
What was the first cohort of Ambitions programme like?
If you want to discover what our first Ambitions graduates did during their time on the course, then read their full story here.
When does the course run?
Mondays and Thursdays from 10am to 3pm.
How do I sign up?
Please complete the Ambitions Programme Pre-Registration Form and email it to ambitionsprogramme@unitasyouthzone.org and Shirkaela.roberts@unitasyouthzone.org
CLICK HERE TO DOWNLOAD A SIGN UP FORM
If you have any queries, you can call Shirkaela, Employability Coordinator on 07376474308 or Unitas on 020 8075 5888.
Follow us on social Media:
Twitter: @AmbitionsUnitas
Instagram: @ambitionsunitasyz