About Us
---
Unitas is an independent charity and purpose-built youth centre for Barnet's young people aged 8 to 19, and up to 25 for those with additional needs. Our fantastic facilities are available at the nominal cost of £5 a year and 50p per visit. We support North London's young people with three things they deserve and need; somewhere to go, something to do and someone to talk to.
Unitas opened its doors in June 2019, and has rapidly become an essential social hub for over 6,500 members. Unitas is a fun and safe place for young people to spend their leisure time, inspiring them to live healthier, happier and more aspirational lives.
We're located on Montrose Playing Fields in Burnt Oak, near to Grahame Park and Colindale. Our building is part of the redevelopment and regeneration of the playing fields, and is based upon the OnSide Youth Zones' "21st Century Youth Facility Model".
Why Barnet?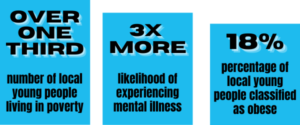 Colindale and Burnt Oak are within the bottom 20% of 'most deprived' wards in England (IMD 2015)
Child poverty is highest in Burnt Oak (36%) and Colindale (37.5%) against a national average of 29%
Barnet is home to 57,000 young people with estimated growth reaching 114,000 by 2031.
Creating the brand
---
Close to 2,000 local young people voted to name Barnet Youth Zone 'Unitas'. 25 young people from Barnet from local partner community groups worked with London-based design agency SEA Design to create branding for Unitas.
Dozens of names, ideas and designs were narrowed down to just two. Thousands of young people from across Barnet voted on their favourite, with "Unitas" the clear winner with over 67% of votes. Read all about it here.
Barnet's Youth
---
As a youth-focused and youth-led charity, we involved young people as much as possible during Unitas's conception and development. Their active participation and influence in areas of brand identity, transportation, fundraising and interior design are fundamental to our approach. Our young people's development group were integral in each stage of planning, from creating the name to interviewing staff.