Vacancies
---
As a brand new charity in Barnet, Unitas Youth Zone offers a chance to make a real difference in the lives of thousands of young people. If you have the energy, drive and enthusiasm to be part of this exciting work coupled with the skills that our roles require, please apply TODAY.
The strength of the OnSide Network of Youth Zones is the diversity of its people, we place huge value on different people doing things in different ways and we welcome applications from what might be considered non-traditional backgrounds. The one thing we all have in common is our desire to raise the aspirations of young people across the country.
You can register your interest for future roles by clicking here
For information regarding how OnSide Youth Zones processes your data, please click here: https://www.onsideyouthzones.org/applicant-privacy/
Employability and 
Enterprise 
Coordinator
Up to £25,000 per annum (dependent on experience)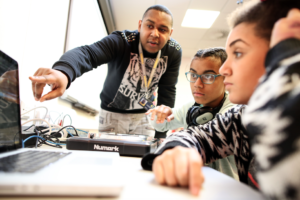 40 hours per week (including evening and weekends)
Closing: 10th December
Interview:  17th December
We are looking for someone who is passionate about supporting young people and committed to improving their future life chances through supporting them into employment destinations. This is an exciting role where you will take a lead responsibility for the delivery of Unitas Youth Zone's Employability and Enterprise offer; ensuring all young people have access to employability and enterprise projects and the opportunity to develop their skills and knowledge, support them to be job ready and in turn to improve their future life chances.
You will be adept at building and managing relationships with employers and key stakeholders to achieve our desired outcomes, as well as, naturally, being great at working with young people from all backgrounds.  The post also involves the delivery of a targeted programme to support young people not currently in education, employment or training into positive destinations. If you are enthusiastic, self-motivated and driven with a keen eye for creativity and opportunity then at Unitas Youth Zone you could make a real impact.
For a full role profile and details of how to apply, click here.
There aren't currently any part time vacancies available at the Youth Zone, but keep checking back! Contact us if you'd like to know more…